Overview
Medicolegal death investigators (MDIs) experience highly stressful and emotional situations daily with what they see, hear, and document. The duties of an MDI dictate that they investigate death scenes, examine and take pictures of the deceased, collect relevant samples and evidence, interview family members, friends, and bystanders, prepare initial reports, and deliver information and personal effects to families, among many other tasks. 
Funded by the National Institute of Justice, this project aims to increase knowledge about work-related stress, stress management, and overall mental health and well-being across individuals working in the field of Medicolegal Death Investigations (MDIs). This effort is being conducted in 2 phases: 1) a national survey of MDI professionals and 2) an impact study. In July 2021, we completed the Phase 1, which was a first survey of its kind to examine the breadth and frequency of exposure to stressful and traumatic events, and outcomes in this workforce. Our partners, the American Board of Medicolegal Death Investigators (ABMDI) and The International Association of Coroners & Medical Examiners (IACME) were instrumental in assisting us with reaching as many MDIs across the United States as possible. The project team began implementation of Phase 2 in August 2021, which includes an impact study to collect various measures and biometric data from MDIs over a 12-week period to learn more about the types of activities that impact stress among MDIs. 
The critical information collected in this study will result in a comprehensive data set that will be used to inform MDIs and their employing organization of how to better understand and support health and wellness, improve organizational outcomes and personal wellbeing, and inform future programs and preventative training to reduce and alleviate work-related stressors. 
Survey Results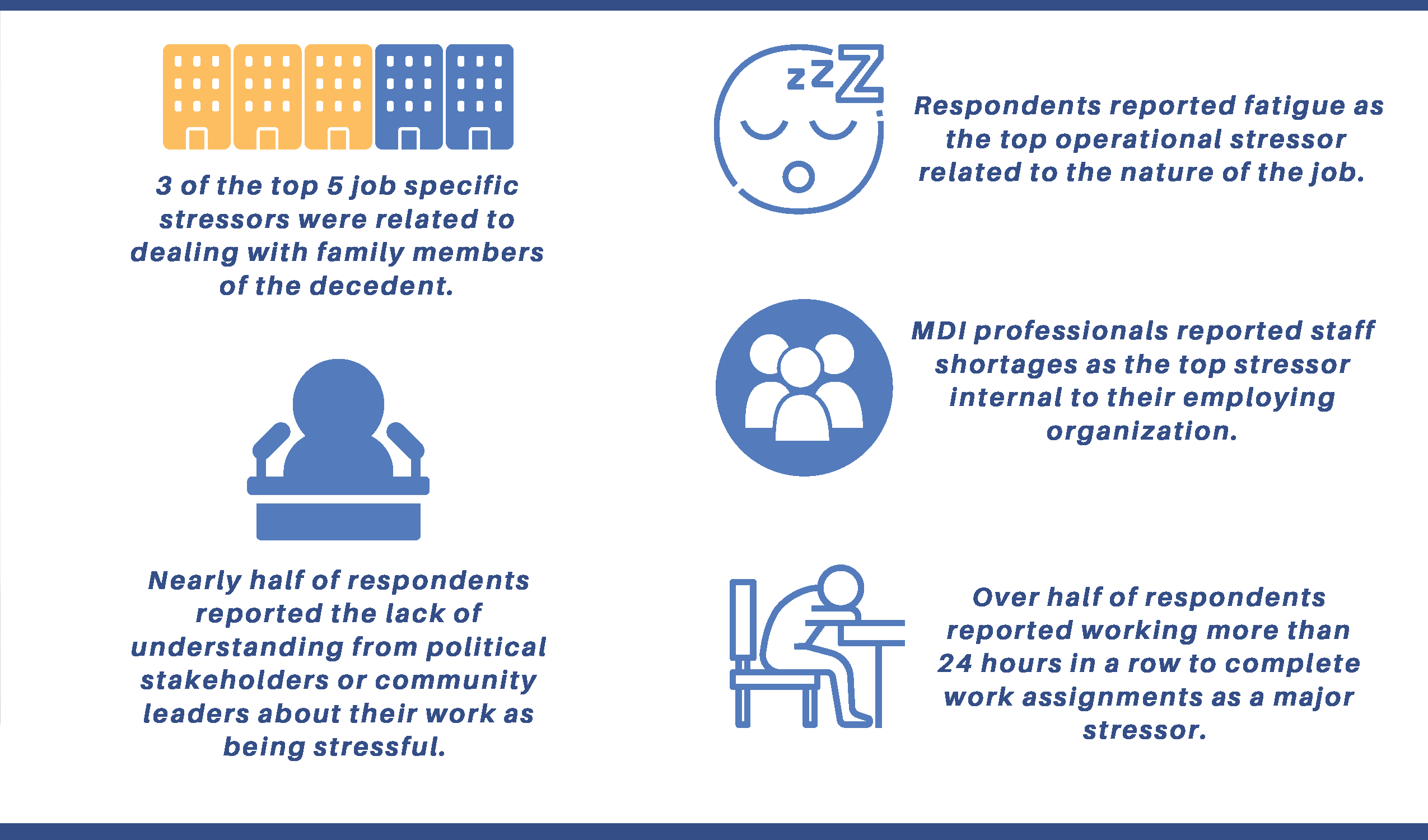 Funding Support
This survey effort is part of a project led by RTI International titled, Understanding Work-Related Stress among Medicolegal Death Professionals: A National Survey, and is funded by the National Institute of Justice.