Sexual Assault Awareness Month  – 2021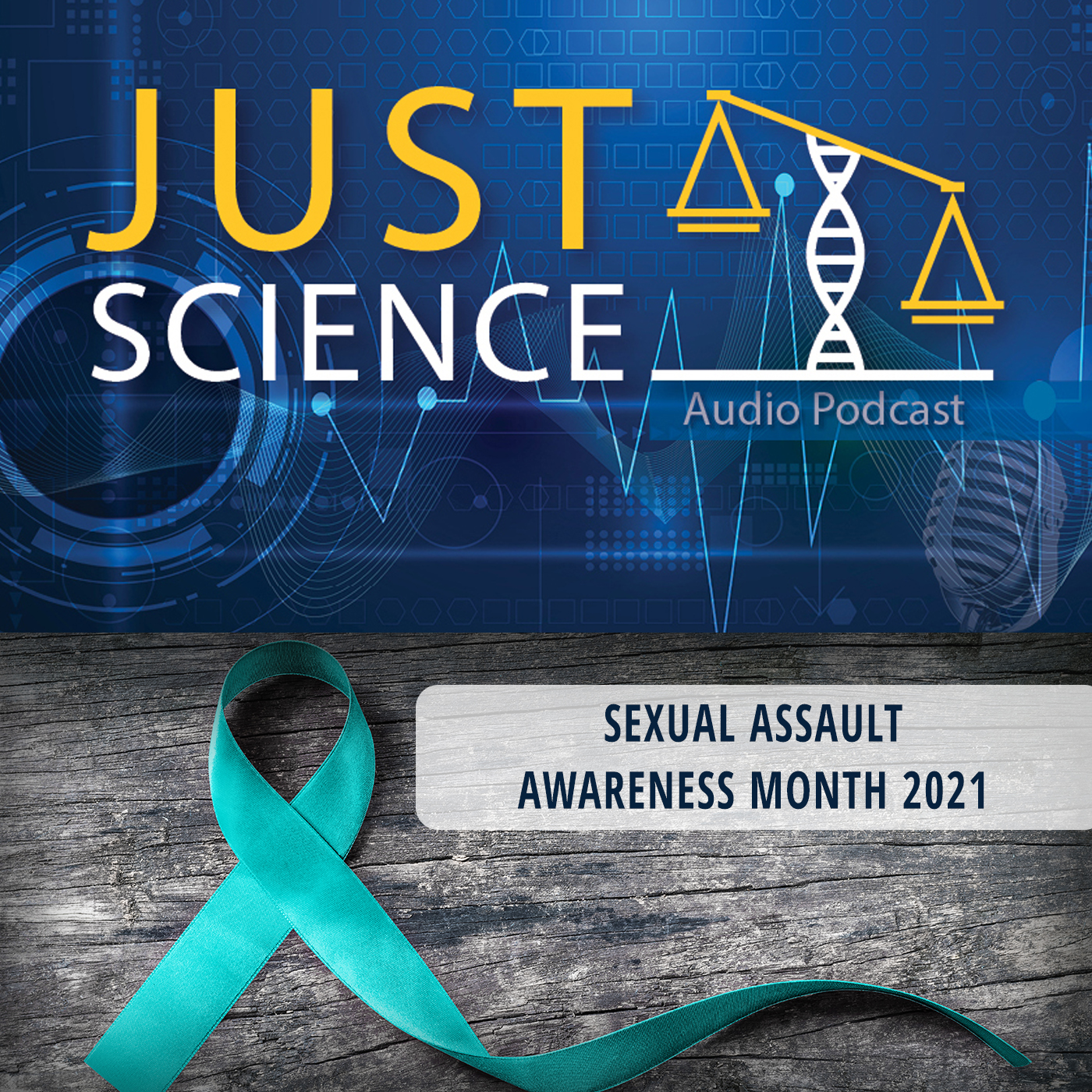 As national efforts to address sexual assault response reform continue to grow, more and more jurisdictions are resolving their sexual assault kit backlog and identifying causes associated with the accumulation of sexual assault kits. In honor of Sexual Assault Awareness Month, Just Science sat down with leaders in the field of sexual assault response reform to talk about current issues in this arena, including the impact of COVID-19. Listen along as our guests discuss methods for supporting victims of sexual assault while presenting considerations and resources for improving sexual assault response reform in this special release season of Just Science.
This season is funded by the National Institute of Justice's Forensic Technology Center of Excellence.
Episodes
In episode one of our 2021 Sexual Assault Awareness Month mini season, Just Science sat down with author, non-profit founder, and sexual assault survivor Natasha Alexenko to discuss her book, A Survivor's Journey, and the importance of Sexual Assault Awareness Month. Every survivor of sexual assault has their own story. Some have experienced successful case resolutions and others have not, but all […] read more
---
Just Forensic Genetic Genealogy and GEDmatch:  Verogen's Approach
In this Forensic Science Week special episode, Just Science interviews Brett Williams, the CEO of Verogen, about the GEDmatch database, how it can be used by law enforcement to perform forensic genealogy searches for investigative leads, and the short- and long-term plans Verogen has for the widely used database and related services.
Verogen is a spin-off of the Illumina corporation and has grown to be an innovator in the realm of forensic genomic technologies. Since their inception, Verogen has evolved from forensic applications to focus on biometrics-based human identification, as a whole. Following this vision, in December of 2019 Verogen  acquired GEDmatch, a crowd-sourced database used by millions of genealogy enthusiasts to trace their family trees, but more recently it has been adopted by law enforcement to aid in cold case investigations.
Listen along with our guest host, Donia Slack, as she and Brett Williams discuss the impact that genetic genealogy and GEDmatch have had on the criminal justice system in this episode of Just Science.
This episode of Just Science is funded by the National Institute of Justice's Forensic Technology Center of Excellence [Award 2016-MU-BX-K110].
---
Just COVID-19: The Impact to Supporting Victims of Sexual Assault
This week on Just Science, we are publishing a special release episode in honor of Sexual Assault Awareness Month. Social distancing, shelter in place, and other responses to COVID-19 can create a stressful environment for survivors of sexual assault especially if they feel they cannot access resources or are physically unable to seek help. In addition, highly stressful situations that result from significant amounts of change, such as unemployment, disruption in 'normal' activities, and social isolation may increase the risk of domestic violence and sexual assault. In this podcast, we will discuss what services are available to survivors of sexual assault, including leveraging on-line platforms and modified strategies for first responders, rape crisis centers, and victim advocates. We will also discuss how we as a friend, family member, and community can be prepared to respond to a victim of sexual assault in this challenging time.
Listen to last year's Sexual Assault Awareness Month episode "Just the Evolution of Sexualt Assault Evidence Collection" with guest Dr. Pat Speck by clicking here.
If you or someone you know is need of emotional support, advice, or crisis intervention please contact the National Sexual Assault Hotline at 800.656.HOPE (4673), or visit, www.rainn.org, the rape, abuse and incest national network, for advocacy support online.
In episode ten, Just Science interviews Josh Yohannan, a forensic chemist and expert in emerging drug trends, about polysubstance use in the opioid overdose epidemic.  Polysubstance [...]